Beers (ABV):
Goose Island Matilda (7%)
Bells Oberon (5.8%)
Dark Horse Raspberry (5.5%)
Half Acre Daisy Cutter Pale Ale (5.2%)
Houblon Chouffe Dobbelin IPA Tripel (9%)
Ommegang Rare Vos (6.5%)
Timmermans Framboise (4.5%)
Lucky Bucket Heartland Wheat (4.8%)
Michelob Ultra 19th Hole Tea & Lemonade (4%)
Saranac Single Malt (5.5%)
Beers Already Tried From This Brewery:
Goose Island (312 Urban Wheat, Nut Brown Ale, Honkers Ale)
Bells (none)
Dark Horse (none)
Half Acre (none)
La Chouffe (none)
Ommegang (Abbey Ale, Hennepin Farmhouse Saison)
Timmermans (none)
Lucky Bucket (IPA, Lager)
Michelob (Ultra, Dragon Fruit Peach, Lime Cactus, Pomegranate Raspberry)
Saranac (too many to mention)

Who doesn't love to go on vacation? Some go for a much needed getaway, to see old friends, to meet new ones, whatever. For me, it was all of the above plus the idea of trying many new beers that I simply can't get here at home.

With that in mind, this week for beer will be slightly different. It's got a list of nine different beers I tried, four of which I got while I got in Chicago. The write up will be shorter but you'll still get my opinion. Here goes.

When I first arrived, we stopped off at Miller's Pub. Rissa had been wanting me to try the Half Acre Daisy Cutter and so I did. It was okay, nothing terrible but nothing great either. Had some hops to it, which I'm not generally a huge fan of anyways.

Next, we went to Rock's in Wrigleyville. I got to try the Dark Horse Raspberry out on the patio and it was very refreshing. A typical fruit ale and would definitely have it as a session beer. Then inside, I got to try Bell's Oberon and Goose Island Matilda, both on tap. These were two fantastic beers! Goose Island had never wowed me before but the Maltida might be one of my all time favorites now. From everything I've heard, Bell's is a solid brewery all around so I'm looking forward to trying some other ones at some point.

The next night, we went back to Miller's Pub and I got to try the Houblon Chouffe Dobbelin IPA Tripel. Despite that I said earlier than I'm not a huge fan of hops, this beer was incredibly well done. You know it's a highly thought of when the BeerAdvocate Bros. rate this one a 98. An absolute must try if you get around to it. Thanks to Angus from Eastern Canada for getting this one for me while chatting it up at the bar!

After getting back home, I had a few other new brews. First the good with Michelob Ultra Light Tea and Lemonade. Basically this was Nestea with Lemon with zero alcohol flavor. You could sit back and drink 20 of these without even thinking.

Now the bad with Lucky Bucket Heartland Wheat. Seriously, I think these assholes use piss for water in their beer. I've tried two other styles and they are both some of the worst tasting beers I've ever tried. If you ever come across the IPA, run away. I don't care if someone at the bar is buying a round of that, do not drink it. While the wheat isn't as bad, it just isn't pleasant. And that's saying alot for wheat beer.

The last of the night ended up being Saranac Single Malt. Honestly, I don't really have much of an opinion on this one. Kinda meh.

The last two new brews that I tried this week happened on my birthday during my Flying Saucer plate party ($150 free bar tab). I tried the Timmerman's Framboise seeing as how much I love Lindeman's Framboise. The Timmerman's was pretty good, just not as good as Lindeman's. Of course, drinking out of the slender fancy glass at a bar is always fun too.

Lastly, I got to try the Ommegang Rare Vos, another beer that got a 98 from the Brothers of BeerAdvocate. The rating definitely matches the beer. Very, very good beer.
Album: The Lateness of the Hour by Alex Clare (2011)
Length: 46 Minutes, 19 Seconds

After going up to Chicago and listening to the radio, I've decided that I really really love the song Too Close by Alex Clare. Some of you may have heard it on the radio, some perhaps on the newest Internet Explorer 9 commercial, but it's wonderful. I sing it constantly in my car when it comes on.

I decided to pick this album because odds are that we may not hear another song of his on the radio so I figured I'd dig a little deeper to find out if he's a one-hit wonder kind of guy or if he's got some real talent.

Looking at a few reviews first to see what I was going to expect, I saw mixed reviews. The different styles on this album included dub step, soul, alternative rock, and R&B.

After going through this album, clearly he's got tons of talent. The real question involved is whether or not all the styles on this album really fit well. As in Too Close, you hear light dub step where others on this album it's just oddly placed. Some songs, there isn't any crazy bassline.

The 5th song on the album is actually a cover of Prince's "When Doves Cry" with some insane bassline, especially for that song. I had mixed feelings about that one. One song that stuck out with me is Hands Are Clever (video below), a song with a ton of soul. If that song doesn't make you want to get up and dance, I don't know what would.

With my mixed feelings on this, I'll certainly be giving this album a second listen to see how I feel. As for you, I'd give this album a shot if you like Too Close at all.
Movie: The Notebook (2004)
Length: 2 Hours, 3 Minutes
Main Cast:
Ryan Gossling, Rachel McAdams, James Garner, Gena Rowlands
I knew for week 6 that I wanted a movie that would tug on the heart strings. What I got with The Notebook was way beyond that. This hit me at my very core.
This was a movie that was simply beautiful. A story of love that is pure and unconditional. Love isn't easy but no matter what you make it work. Not because you have to but because you want to. You sacrifice, you hurt, you laugh, you feel, you cry, and in the end it's all worth it. With a love like that, you can do anything. In the end, it's you and them. Nothing else in the world matters.
You can even be apart for days, weeks, months or years but your heart forever beats for them. Others may come and go but you still breathe for them. That's hard to find and when you do, you want to do your damnedest not to let them go. You see that so clearly between Noah and Allie.
The idea that there can be love so strong that it can last to the very end should give the world hope.
To me, this was the greatest love story that I've ever seen to date. Seeing the paralells of a young Noah and Allie lying in the street to them at the end lying next to each other in the bed was wonderfully done. The last thing Noah said was "I'll be seeing you." couldn't have been more perfect. From that moment, I had tears rolling down my cheek.
The acting was top notch and the plot was absolutely perfect. For those that haven't seen this movie, please do so. Don't be like me and shrug it off as some lame chick flick or love story. Don't be afraid to let this movie touch you.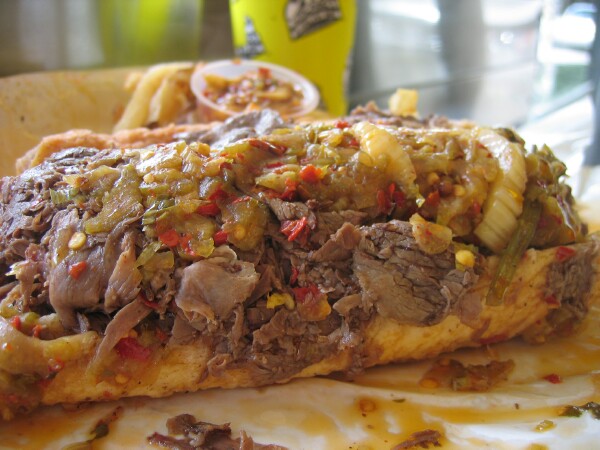 Food: Big Al's Italian Beef with Provolone and Giadiniera

I don't know if it was the fact that it was 1am, the alcohol or just the idea of trying something new, all of the above but whatever the case, this sandwich had me giddy and laughing while eating it (as Amanda can attest to).

After trying to find places to eat via Urbanspoon, we decided upon Portillos Hotdogs. However, the ended up being closed so we came across Big Al's Italian Beef. I've never had anything like this before so it was a perfect time to try something for the blog.

What happened next might be the first time I've ever done this in my life. I asked the guy what his favorite sandwich was and without caring what it had on it, I was going to try it.

What he told me ended up being Italian beef with provolone cheese and homemade hot giadiniera. As someone who has never had provolone cheese and certainly doesn't handle hot very well (as Amanda can also attest too), I was slightly nervous. However, thanks to the liquid courage, I got over that in a hurry.

After taking my first bite, I loved it. Despite the very hot giadiniera, it had great flavor. The beef was tender and juicy. It was quite a mess to eat but wonderful. If you're ever in the Chicago area, I would certainly advise trying this sandwich atleast once.